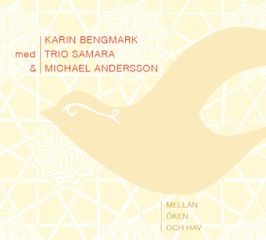 Karin Bengmark- vocal
Michael Andersson- percussion
Trio Samara:
Ahmad Al-Khatib – oud
Sten Källman – soprano saxophone
Stefan Bergman – bass
Three years ago Ahmed and Karin started a collaboration. He tought her traditional Arabic songs and she started to write free translation to Swedish. Two years ago they put together a group with Sten, Stefan and Michael. Together they have arranged a number of songs originating from Al Andaluz in the west to Iraq in the east. Many of the songs are more than 1000 years old. Different worlds meet in these songs as they are intervowen with Nordic folk music and modern rythms.

Recension i Lira september 2014