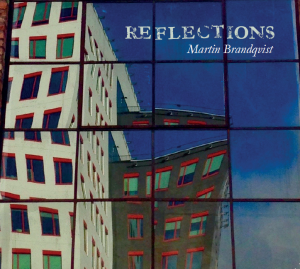 Drums: Martin Brandqvist
Piano: Johan Ohlsson
Mats Ingvarsson: Double Bass
Tenorsaxophone: Inge Petersson Lindbäck
Martin Brandqvist grew up in Harplinge, in a home characterized by jazz. Already at the age of 17, Martin played at the legendary jazz club Nefertiti in Gothenburg, together with Matz Nilsson, Ove Ingemarsson, and Håkan Brandqvist, his father. Later, he became an educated percussionist, in Sweden as well as in New York, and he has a Bachelor of Arts in music from Malmö University. At Drummers Collective in New York Martin met the legendary percussionist Frank Malable and studied the Afro-Cuban tradition on drums. This resulted in a long period where Martin played with different bands all in the world music arena. Martin has toured with Vusi Mahlasela in South Africa and played with Simbi and Boukman Eksperyans on festivals in Canada, France and Haiti. In the 1990's, his contacts in Malmoe and Copenhagen with musicians from Brasil resulted in tours and recordings in Sweden and Iceland. As a member of the band Avadå Band, Martin had the opportunity to mix his African sources of inspiration with Swedish folk music. As a composer, Martin has written the music for movies and TV-series, to which prizes have been awarded. For several years, the animated TV-show "Karlsson på taket" has been shown to the sound of Martin's music. His cooperation with Sluggerfilm in Malmö and the Swiss drawer Ted Sieger has resulted in several movies, among others "The Fourth King" and "Molly and the Christmas monster". To view movie cuts and to listen to samples, click here:Martin Brandqvist.
Johan Ohlson has a great experience as an accordionist and a pianist from world music as well as from playing jazz in Sweden. For a long period, Johan and Martin both played in the band Simbi. Simbi played on festivals e.g. in France and Canada, Haiti and in the United States. Simbi plays Haitian folk music mixed with West-African music, jazz, and funk. Furthermore, Johan plays world music strongly influenced by Balkan, e.g. in the band Östblocket. You can also hear him in constellations such as Mimi Terris, Joe Spinaci & The Brocolino Orchestra, Swing al Dente, Opa!, Torbjörn Righard Quartet, Sofia Thelin band, and Cumbiasound. In the one and the same person, Johan has succeeded in combining professional musicianship with the heart of a folk-musician, which otherwise are not easily compatible.
Mats Ingvarsson plays the bass roughly as well as tenderly, and it derives its' traces from Africa, the origin of jazz. On Mats' webpage (www.matsingvarsson.com), you find information about his various projects. He has played with groups and musicians such as Grand Clinic, Soul Quality Quartet, Almaz Yebio, Fredrik Kronkvist, Anders Bergcrantz, Sofi Hellborg, Jan Lundgren, Geri Allen, and Mathias Landeus.
Martin once heard Inge Petersson Lindbäck play with Tolvan Big Band and Michael Brecker. The concert was amazing, as was the sound of his two favorite saxophonists playing together. Martin bought tickets for the following concert as well. According to Martin, Inge is intuitive and innovative. He creates atmospheres, rhythms, and new tunes in his solos, which can raise a song in the same way as a skilled and talented singer or vocalist.
Recensioner
Sydsvenskan 16 december 2016